Innovative Solutions for Automated Imaging
MetaSystems has been developing and producing system software for automated microscopy since 1986. Today, users in more than 100 countries rely on the laboratory solutions by MetaSystems.
In addition to generating the highest quality images, our modern approaches include an advanced workflow management that grows with your requirements and the use of artificial intelligence for image assessment.
To learn more about our innovative lab solutions, we encourage you to begin on the applications pages.
You would like to discover what others are accomplishing with their MetaSystems products? Read through the list of peer-reviewed publications from our customers!
If you do not find what you are looking for, please do not hesitate to contact the MetaSystems partner in your region.
Analysis of Bone Marrow Samples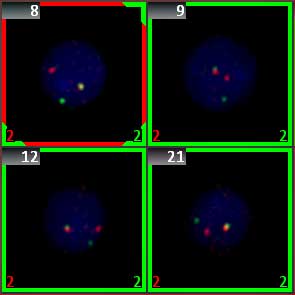 "Chimerism analysis after sex-mismatched bone marrow or peripheral blood stem-cell transplantation is an important diagnostic component to monitor transplantation and minimal residual disease and DLI. [...] As advantage of automated analysis using Metafer turned out, that the picture and the coordinates of each cell are memorized. [...] Moreover, it is possible to analyze huge amounts of cells and to detect small subpopulations of residual cells. Automated analysis correlates linearly with manual analysis [...]."
Cited From: Molecular Cytogenetics (2009) Read more...
All Publications
Related Products/Solutions
Assistance Required?
Please do not hesitate to contact us.
Are You Looking for Probes?

MetaSystems Probes now has its own website. If you are looking for MetaSystems XCyting DNA Probes, please visit the MetaSystems Probes website.
---