Innovative Solutions for Automated Imaging
MetaSystems has been developing and producing system software for automated microscopy since 1986. Today, users in more than 100 countries rely on the laboratory solutions by MetaSystems.
In addition to generating the highest quality images, our modern approaches include an advanced workflow management that grows with your requirements and the use of artificial intelligence for image assessment.
To learn more about our innovative lab solutions, we encourage you to begin on the applications pages.
You would like to discover what others are accomplishing with their MetaSystems products? Read through the list of peer-reviewed publications from our customers!
If you do not find what you are looking for, please do not hesitate to contact the MetaSystems partner in your region.
Automated Evaluation of a Bladder Cancer Multiprobe-FISH Assay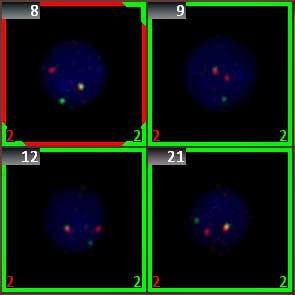 "With the current report, we [...] share our experiences and describe the fundamental steps toward optimization of automated-spot counting using this complex, multitarget FISH assay. [...] The system was driven by Metafer 4.0 user-trainable software, consisting of MetaCyte and Isis modules [...], enabling cytogenetic investigations with various levels of automation. [...] The average difference between the rate of positive cells detected by manual and automated analysis was 3.20% (62.98%) and the correlation between the two data classes was strong (r = 0.9455). [...] In conclusion, it is possible to automate [...] evaluation using an adaptable, user-trainable system; diagnostic accuracy being generally comparable to manual analysis."
Cited From: Microscopy Research and Technique (2011) Read more...
All Publications
Related Products/Solutions
Assistance Required?
Please do not hesitate to contact us.
Are You Looking for Probes?

MetaSystems Probes now has its own website. If you are looking for MetaSystems XCyting DNA Probes, please visit the MetaSystems Probes website.
---