Innovative Solutions for Automated Imaging
MetaSystems has been developing and producing system software for automated microscopy since 1986. Today, users in more than 100 countries rely on the laboratory solutions by MetaSystems.
In addition to generating the highest quality images, our modern approaches include an advanced workflow management that grows with your requirements.
You would like to discover what others are accomplishing with their MetaSystems products? Read through the list of peer-reviewed publications from our customers!
If you do not find what you are looking for, please do not hesitate to contact the MetaSystems partner in your region.
Gene Amplification in Myeloid Lymphomas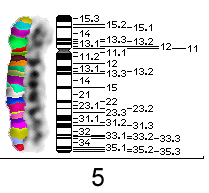 "It appears likely that gene amplification is more common than has been reported previously. In two cases, the hsr amplification was only detected with mFISH/mBAND."
Cited From: Cancer Genet. Cytogenet. (2009) Read more...
All Publications
Related Products/Solutions
Assistance Required?
Please do not hesitate to contact us.
Are You Looking for Probes?

MetaSystems Probes now has its own website. If you are looking for MetaSystems XCyting DNA Probes, please visit the MetaSystems Probes website.
---