Innovative Solutions for Automated Imaging
Since 1986 MetaSystems has been designing and manufacturing systems for computerized automated microscopic imaging. From the very beginning, the close relationship to the end user has been an essential part of the MetaSystems philosophy. The following three decades have revealed that this was a successful strategy; from humble beginnings, MetaSystems has grown into a leading solution provider which still remains connected to its strong roots.
MetaSystems' latest innovation, Neon, is a dynamic, modern imaging platform which reliably manages cases, images, and results from single workstation environments to large multi-user, multi-site installations. The Neon imaging platform ensures that all relevant information is accessible whenever needed.
Maybe you can find a solution to your imaging automation problem here on this web site. We recommend starting your journey on the application pages, if you are not familiar with our product portfolio. In case you are, it may be easier to go directly to the page for the product you actually look for. Should you feel lost, please feel free to contact us or the MetaSystems partner in your country.
We believe in communication being the first step towards innovative solutions!
Dicentrics Analysis in Bio-Dosimetry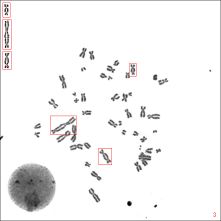 "Our study is the first to propose the automatic detection of dicentrics stained with Giemsa for population triage with the help of an image analysis system. Automatic scoring of dicentrics by the Dicentrics Detect software (MetaSystems) can be used for a large population dose estimation because it can replace the usual manual scoring of both the 50MS and 500MS methods."
Cited From:Radiation Research (2009) Read more...
All Publications
Related Products/Solutions
Assistance Required?
Please do not hesitate to contact us.
Are You Looking for Probes?

MetaSystems Probes now has its own website. If you are looking for MetaSystems XCyting DNA Probes, please visit the MetaSystems Probes website.
---