Isis
Fluorescence Imaging Platform
Isis is the professional fluorescence imaging module for Neon.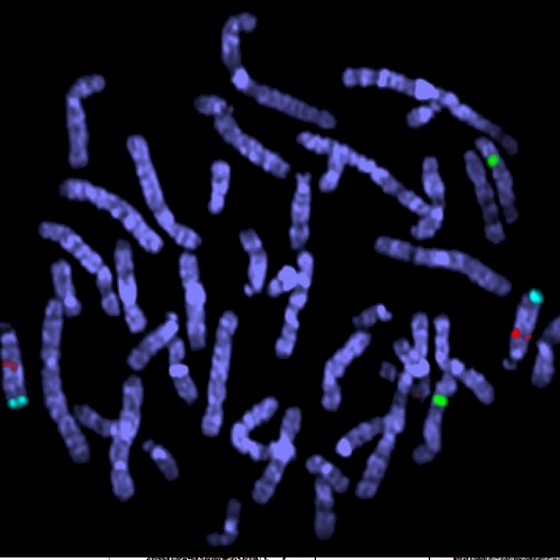 Isis combines ease of use and a functionality meeting the requirements of even the most demanding research and routine applications. With the help of automatic exposure time adjustment, and with the support of most of the common motorized microscopes, it reliably acquires fluorescence images with up to 12 color channels. For image processing, Isis provides a variety of tools to enhance, edit, annotate, archive, measure, and print the images. The optimized user interface guarantees rapid results in research and routine. Isis can be either installed as a stand-alone system, or it can be seamlessly integrated into Ikaros karyotyping stations, the Metafer slide scanning workstation, or any multi-user workplace with networked stations. Options for color karyotyping, comparative genomic hybridization (CGH), multicolor FISH (mFISH), multicolor fluorochrome banding (mBAND), and for automatic telomere measurement are available (see below).
Professional imaging of fluorescently labeled samples requires images of highest quality. The combination of state-of-the-art image acquisition hardware and software tools for automated control of imaging parameters guarantees perfect raw images. Many image enhancement tools can be used automatically, thus matching the requirements of routine diagnostics and providing a streamlined workflow. The integrated focus stack function (most conveniently in combination with a motorized microscope) is a simple and effective tool to analyze 3D objects. Captured images from different focus planes can be combined generating an extended focus image. All signals are clearly detectable, while unspecific background is removed.
Multiple customizable color display modes (RGB, individual colors, modified colors, merged colors, gray scale, inverted gray scale, combinatorial false colors) allow detailed analysis of images. All false color lookup tables can be easily modified and saved separately for further usage.
Isis is available in various configurations. Each single configuration can be used as a building block to compose an optimally configured multi-user environment. Please ask MetaSystems or your local MetaSystems representative for recommendations on the best configuration for your requirements.
 
Camera Model
Hardware Included
Microscope Required
Isis Stand-Alone System
MetaSystems CoolCube 1m
1360 x 1024 pixels; 6.45 μm x 6.45 μm
2/3" CCD™, monochrome
PC for Ikaros and Isis Systems
Computer Peripherals
Manual or motorized microscope with
trinocular tube and C-mount camera adaptor
(not included)
Isis Workstation
None
PC for Ikaros and Isis Systems
Computer Peripherals
No
(Requires network connection
to a full Isis or Metafer system)
Isis Image Acquisition System
MetaSystems CoolCube 1m
2336 x 1752 pixels; 5.5 μm x 5.5 μm
1" CCD, monochrome
PC for Ikaros and Isis Systems
Computer Peripherals
Manual or motorized microscope with
trinocular tube and C-mount camera adaptor
(not included)
Of course all versions of Ikaros and Isis can be combined on the same system. The list above is not exhaustive, and technical data may change. Please contact your MetaSystems representative for further explanations and details.