21. Bamberger Morphologietage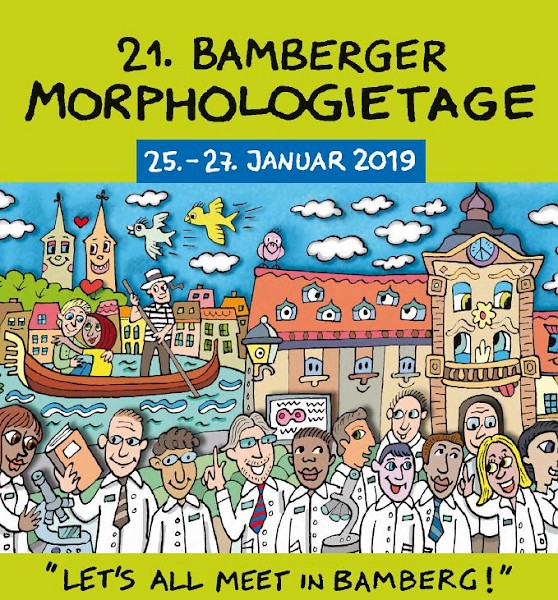 Die Schwerpunktthemen für den kommenden Kongress sind Uropathologie, Kopf-Hals-Tumore und natürlich die Molekularpathologie. Zu diesen Themen finden Sie ein breit gefächertes Spektrum an Vorträgen, Workshops, Kompaktkursen, Seminaren und auch interdisziplinären Kursen.
Neu ist im kommenden Januar die Gestaltung des Freitags. Hier finden Sie nach dem traditionellen Wissenscamp unter anderem fakultativ buchbare Kurse zu neuropathologischen Themen und unsere Premiere eines Masterkurses zur Schilddrüsenpathologie. Klares Ziel ist es hier, Ihnen in kurzer Zeit Lösungsmöglichkeiten für die größten Herausforderungen in der täglichen Diagnostik zu zeigen. Für unsere Labore ist die zunehmende Anforderung von molekular-pathologischen Untersuchungen eine große Herausforderung. Deswegen bieten wir unter dem Motto: "Von MTLA's für MTLA's "einen Kurs zur Etablierung eines NGSLabors an und starten die vierteiligen Reihe "Mol-Path für Einsteiger" für MTLA's, Biologen und Ärzte.
Um die gesamte Variationsbreite der neuen Methoden zeitnah im eigenen Labor umsetzen zu können, wird der Kongress wie immer von einer Industrieausstellung begleitet, die modernste und aktuellste Geräte und Techniken vorstellt.
Bei all den rasanten Fortschritten in der Medizin wollen wir auch die Pathologie in den Entwicklungs- und Schwellenländern nicht vergessen und stellen Ihnen deshalb die deutschsprachige Arbeitsgruppe "iPath" mit Vorträgen und einer Sitzung der Arbeitsgruppe vor, sodass Sie für sich ganz persönlich entscheiden können, ob und wie Sie sich bei diesem wichtigen Thema einbringen wollen.
Link to Event Website
Date:

from Jan 25, 2019 until Jan 27, 2019
Location:

WELCOME KONGRESSHOTEL BAMBERG
Mußstraße 7
96047 Bamberg, Germany
1 MetaSystems products are used in many countries worldwide. Depending on the regulations of the respective country or region, some products may not be used for clinical diagnostic use. In Europe MetaSystems products are CE labelled in-vitro diagnostics (IVD) devices. In the USA all MetaSystems products except the Ikaros karyotyping systems are intended to be used for research or inspection only.