Bacteremia DMI Kit
Evidence for Targeted Therapy
Assessment of positive blood cultures for the identification of the most relevant bacteremia-causing bacteria
Bacteremia is one of the most frequent hospital-acquired infections (HAIs). Resultant sepsis and septic shock mandate early intervention because survival rates decrease dramatically by every hour of delayed antibiotic treatment. Initial therapy relies on broad-band antibiotics until the pathogenic microorganisms can be identified. But broad-band antibiotics are often ineffective and contribute to surging bacterial resistance.
Fast pathogen identification, together with information about patient history and resistance incidence, is key for rapid and appropriate adaption of antimicrobial therapy for best patient outcomes – as well as to restrict accelerating antibiotic resistance.
Direct Multiplex Imaging (DMI) enables pathogen identification from mono- and polymicrobial positive blood culture (pBC) within 35 minutes. The assay with 12 genus and species-specific probes enables easy, precise, and reproducible identification of over 90% of the bacteremia-relevant pathogens. Slides can be read manually or automatically scanned and imaged with the Metafer SCAN software.
| Gram negative bacteria | Gram positive bacteria |
| --- | --- |
| Acinetobacter spp. | Enterococcus faecalis |
| Enterobacteriaceae | Enterococcus faecium |
| Escherichia coli | Staphylococcus aureus |
| Klebsiella pneumoniae | Staphylococcus spp. |
| Proteus mirabilis | Streptococcus pneumoniae |
| Pseudomonas aeruginosa | Streptococcus spp. |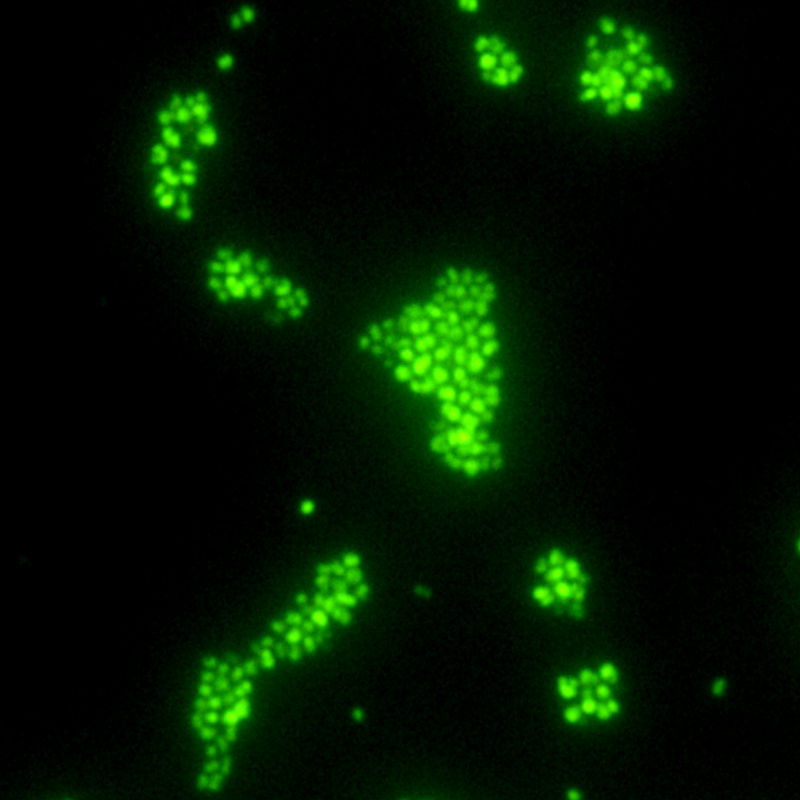 With More Information
Gram stains, together with the rapid DMI results, provide strong, reliable and cost-effective guidance for antibiotic selection with valuable information about bacteremia causing pathogens. Moreover, DMI has the important advantage over other molecular diagnostics of preserving cell morphology, allowing phenotypic examination and viability assessment.
At Reduced Costs
Due to the labor-saving effects of the straightforward identification protocols, DMI facilitates routine work-up procedures for pBC bottles. Additional tests - such as resistance assays for S. aureus - can be ordered for identified pathogens and contaminated samples can be excluded, thus adding to the cost-efficiency and effectiveness of laboratory operations.
| | | |
| --- | --- | --- |
| Name | Order Number | Size |
| Bacteremia DMI Kit | P-7510-010-IG | The kit includes required reagents and consumables for 72 assays |
Legal Note
MetaSystems software and system products are classified as in vitro diagnostic medical devices (IVD) in the European Union in accordance with In Vitro Diagnostics Regulation (EU) 2017/746 or In Vitro Diagnostic Medical Device Directive 98/79/EC, respectively, and carry the CE label unless otherwise indicated. Use all MetaSystems IVD products only within the scope of their intended purpose.
MetaSystems products are used in many countries worldwide. Depending on the regulations of the respective country or region, some products may not be used for clinical diagnostics.
Some hardware components supplied by other manufacturers are not included in MetaSystems IVD products and are therefore not IVD medical devices.
Please contact us for further information.