Workflow Automation
SlideFeeder x80 and Accessories
Tools to enhance the capacity of a Metafer based system
In parallel with the development of our outstanding imaging software, MetaSystems identifies and tests suitable hardware in order to make recommendations for the optimal accessories. All hardware parts selected by us have been put through their paces in various operating situations together with MetaSystems software. The respective interfaces between software and hardware have been optimized so that first-class results can be achieved in every application offered.
The following list is not necessarily exhaustive, as MetaSystems is constantly testing and adding new hardware parts to the portfolio to support various applications. If you need documentation for a specific hardware part that came with your MetaSystems software, please contact us.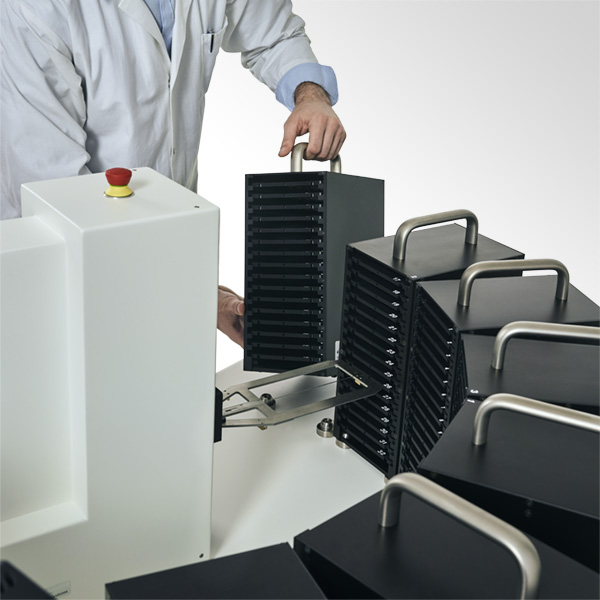 The robust and secure SlideFeeder x80 is a robotic exchange system built especially for use with the Metafer slide scanning platform in a high throughput environment. SlideFeeder x80 (SF x80) extends scanning capacity to up to 800 slides and allows for 24/7 operation. A fully equipped SF x80 hosts 10 magazines plus one bar code reader (see below). Each magazine can hold 16 frames with 5 slides each which makes 800 slides in total. Slides are mounted in robust metal slide frames. A standard slide frame holds 5 regular microscopy slides.
Magazines are portable and can easily be carried to the workbench for loading. Due to intelligent sensor technology, the SF x80 knows how many magazines and frames are available. The magazines can be replaced even while Metafer is scanning.
Thus, Metafer scanning software with the SlideFeeder x80 can act as full-time image server – 24 hours per day, and 7 days a week.
The motorized Feeder Module rotates horizontally to pick the slide frames from the magazines and deliver them to the microscope stage. Frames in magazines are identified by sensors and detected by bar codes. Metafer is always aware of the position of every single frame in the system.
---
Specifications:
Manufacturer: IML Instrumenta Mechanik Labor System GmbH, Germany
Capacity: 80 to 800 slides
Footprint (w x d):
1270 x 480 mm for up to 2 magazines (up to 160 slides)
1270 x 750 mm for 2 magazines plus Bar Code Reader
1270 x 800 mm for 3 to 7 magazines (up to 480 slides)
1270 x 1270 mm for up to 10 magazines plus Bar Code Reader (up to 800 slides)
Weight:
Feeder Module: 17 kg
Baseplate (small): 28 kg
Baseplate (large): 39 kg
Documentation: Available on request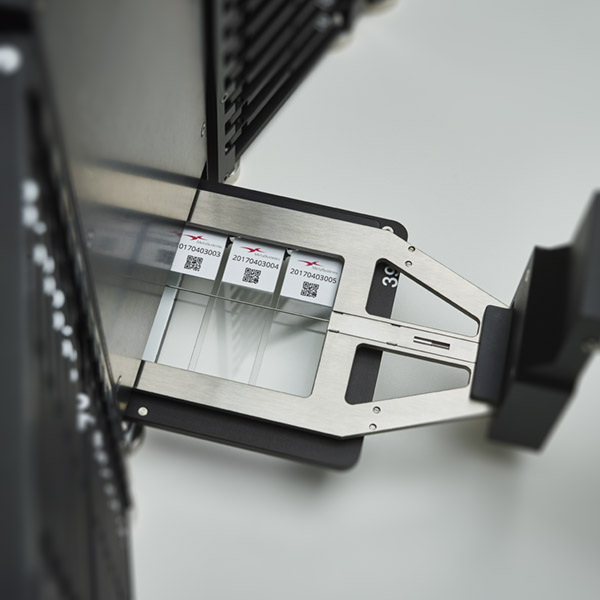 The bar code reader for the SF x80 supports many standard bar code formats and adds functionality to acquire images of the frosted end or the labels of slides. It has the dimensions of an SF x80 magazine and is accessed by the Feeder Module.
Reads many different 1D and 2D barcodes (for details on the supported bar codes, please contact MetaSystems)
Enables Metafer software to acquire monochrome images of the slide label or the frosted end of the slides, e.g., to store handwritten remarks
---
Specifications:
Manufacturer: IML Instrumenta Mechanik Labor System GmbH, Germany
Dimensions (w x d x h): 140 x 200 x 350 mm
Weight: 2 kg
Documentation: Available on request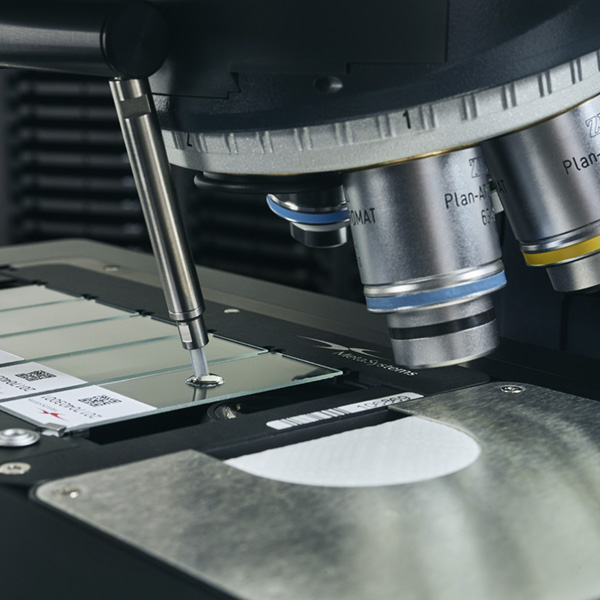 The AutoOiler 3 is a Metafer-driven dispenser for immersion oil. It dispenses immersion oil onto microscope slides by means of a Metafer-controlled micro pump.
Programmable dispensing protocols to address different sample conditions
Immersion oil reservoir (250 ml)
Drip-free oiling thanks to a specifically developed nozzle
Park position with the possibility to clean the nozzle
Can be used independently from the SF x80
The list above is not exhaustive, and technical data may change. Please contact your MetaSystems representative for further explanations and details.
Legal Note
MetaSystems software and system products are classified as in vitro diagnostic medical devices (IVD) in the European Union in accordance with In Vitro Diagnostics Regulation (EU) 2017/746 or In Vitro Diagnostic Medical Device Directive 98/79/EC, respectively, and carry the CE label unless otherwise indicated. Use all MetaSystems IVD products only within the scope of their intended purpose.
MetaSystems products are used in many countries worldwide. Depending on the regulations of the respective country or region, some products may not be used for clinical diagnostics.
Some hardware components supplied by other manufacturers are not included in MetaSystems IVD products and are therefore not IVD medical devices.
Please contact us for further information.