RapidScore Keypad
External Adaptive Control Panel
Tool for rapid review of cell galleries in Metafer
In parallel with the development of our outstanding imaging software, MetaSystems identifies and tests suitable hardware in order to make recommendations for the optimal accessories. All hardware parts selected by us have been put through their paces in various operating situations together with MetaSystems software. The respective interfaces between software and hardware have been optimized so that first-class results can be achieved in every application offered.
The following list is not necessarily exhaustive, as MetaSystems is constantly testing and adding new hardware parts to the portfolio to support various applications. If you need documentation for a specific hardware part that came with your MetaSystems software, please contact us.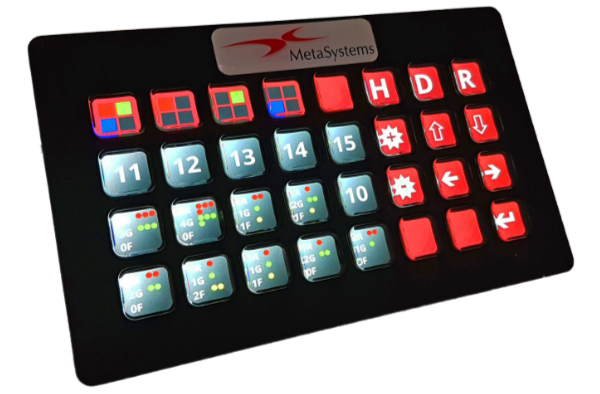 For the fast review workflow technology RapidScore using Metafer software, MetaSystems has selected and tested an external programmable keypad. This keypad is fully customizable and programmable and can be used to facilitate one-click expert confirmation of automated findings. The great advantage of this keyboard is the possibility of graphically displaying the assignment of the keys on them, since the keys work much like small displays.
---
Specifications:
Manufacturer: Corsair GmbH, Germany
Ergonomic setup: External keyboard with 32 customizable LCD keys
Swift review: One-touch operation
Visual feedback: know that your command has been executed
Connectivity technology: USB
Documentation: Streamdeck XL page on the Corsair GmbH website
Legal Note
MetaSystems software and system products are classified as in vitro diagnostic medical devices (IVD) in the European Union in accordance with In Vitro Diagnostics Regulation (EU) 2017/746 or In Vitro Diagnostic Medical Device Directive 98/79/EC, respectively, and carry the CE label unless otherwise indicated. Use all MetaSystems IVD products only within the scope of their intended purpose.
MetaSystems products are used in many countries worldwide. Depending on the regulations of the respective country or region, some products may not be used for clinical diagnostics.
Some hardware components supplied by other manufacturers are not included in MetaSystems IVD products and are therefore not IVD medical devices.
Please contact us for further information.