Microscopes
Microscopes and Accessories
Microscopes, illumination devices, and related add-ons
In parallel with the development of our outstanding imaging software, MetaSystems identifies and tests suitable hardware in order to make recommendations for the optimal accessories. All hardware parts selected by us have been put through their paces in various operating situations together with MetaSystems software. The respective interfaces between software and hardware have been optimized so that first-class results can be achieved in every application offered.
The following list is not necessarily exhaustive, as MetaSystems is constantly testing and adding new hardware parts to the portfolio to support various applications. If you need documentation for a specific hardware part that came with your MetaSystems software, please contact us.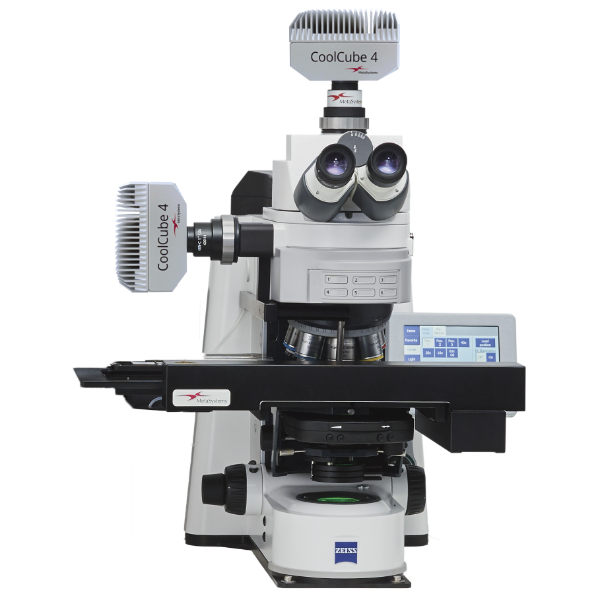 MetaSystems offers the AxioImager Z2 motorized research microscope as an accessory for its Metafer scanning software. The microscope supports the flexibility of Metafer by allowing the combination of many contrasting methods (transmitted light, fluorescence, phase contrast, DIC, etc.) with a variety of filters, illumination options, objectives and other possibilities. MetaSystems has developed and tested an optimized configuration from these options for each application supported by Metafer.
---
Specifications
Manufacturer: Carl Zeiss AG, Germany
Handling: Motorization for reproducible component settings and automated processes.
Optics: Excellent optics and homogeneous illumination in both transmitted light and fluorescence applications.
Performance: Research microscope with new high performance focus for maximum precision and 24/7 operation.
Documentation: Download page on the Carl Zeiss AG website
MetaSystems offers a variety of illumination devices for operation with Metafer and Ikaros in transmitted light. The choice of the appropriate units depends, of course, very much on the particular applications involved. Your MetaSystems consultant can help you choose the best illuminator in case of doubt.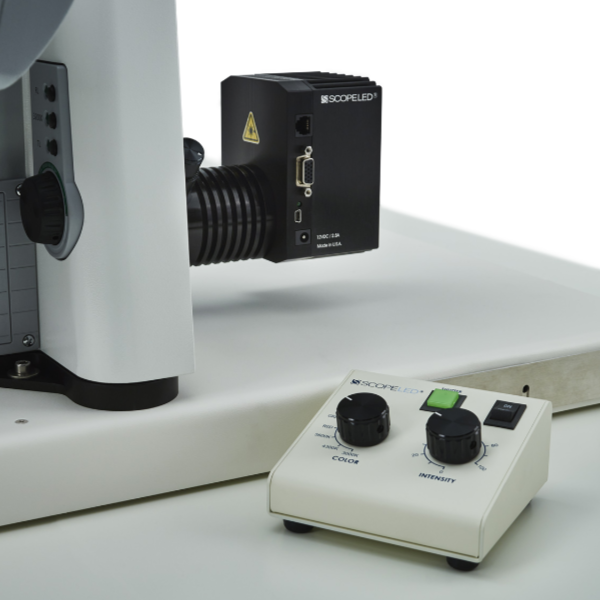 ScopeLED
ScopeLED microscopy illuminators replace conventional halogen light sources used for a variety of transmitted and reflected light applications, such as bright-field, dark-field, phase contrast, polarized light and DIC. The heart of the B-Series illuminators is DiCon's high performance Dense Matrix LED™ Array.
Individual Channel Control for Sequential R,G,B Imaging in Merged Color Acquisition applications
Non‐phosphor RGB LED Array that is safe for use with laser based fluorescence microscopes
USB, 0–6V analog and TTL connections for remote control and automation
High‐Efficiency Dense Matrix LED™ Array Light Engine
Small Form Factor, Fan‐less Cooling, Vibration‐Free
No Hazardous Material in the Laboratory
Ergonomic Manual Control Interface
Optical Foot Switch for Shuttering
30,000 Hours of LED Lifetime
Highly Stable Light Intensities
No UV or IR Radiation
---
Specifications
Manufacturer: BioVision Technologies, Inc., USA
Documentation: Available on request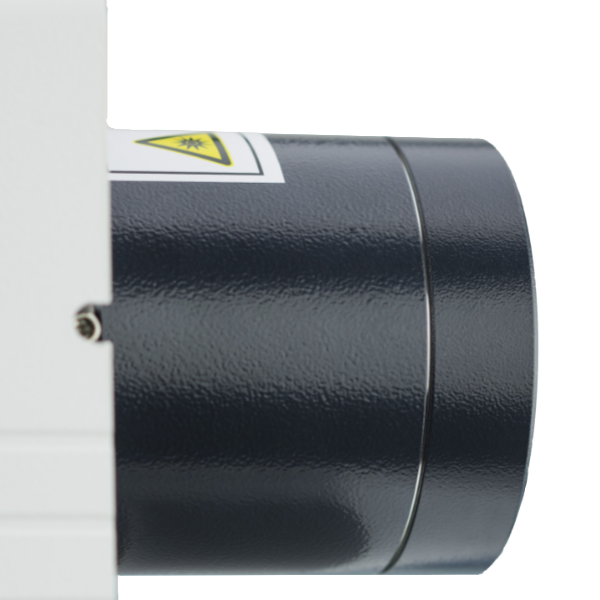 microLED2 LED Illuminator
The microLED2 is a universal LED replacement for HAL (halogen) 100 lamps. It can be directly replaced and run on existing power with AxioImager microscopes. The microLED 2 is bright enough for all contrasting techniques including darkfield, DIC or polarized light. It maintains a constant daylight white color temperature of 5700K so you do not need to adjust the camera's white balance like with halogen lamps.
Color temperature 5700 K
Color rendering index > 90
Average lifetime 60000 h
Usable for lenses from 2,5x
---
Specifications:
Manufacturer: Carl Zeiss AG, Germany
Documentation: Available on request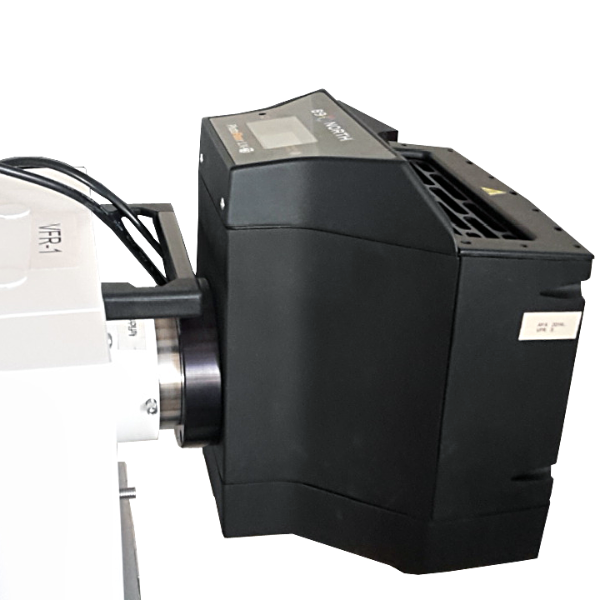 PhotoFluor LM75 Illuminating System
The PhotoFluor LM75 illumination system is a fluorescence illumination that can be mounted directly to the microscope, thus requiring little space. It is a high-power, ultra-stable metal-halide light source.
Mounts directly to a microscope with a small footprint
High UV output and no flickering
Well-suited for routine fluorescence, FISH, and clinical applications
Direct-mountable design eliminates need for a liquid light guide
User-exchangeable lamp requires no user alignment
Quiet operation
No external controller saves bench space
High output intensity at sample reduces exposure times
Long Lifetime [1250 hrs guaranteed, 1500 hrs typical]
---
Specifications
Manufacturer: 89 North Inc., USA
Documentation: Available on request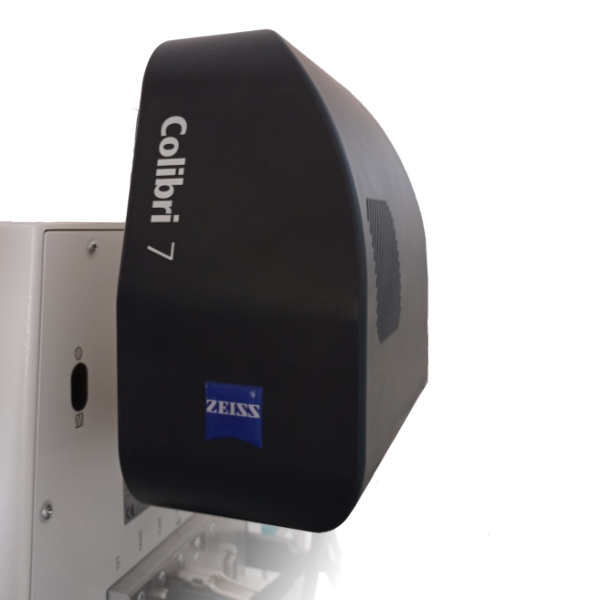 Colibri 7 LED Light Source for Fluorescence
Colibri 7 is the new light source from Carl Zeiss with up to six LED modules and seven fluorescence channels, each generating monochromatic light with different wavelengths. Thanks to the newly designed beam path, Colibri.7 illuminates the sample homogeneously and without time-consuming adjustment.
---
Specifications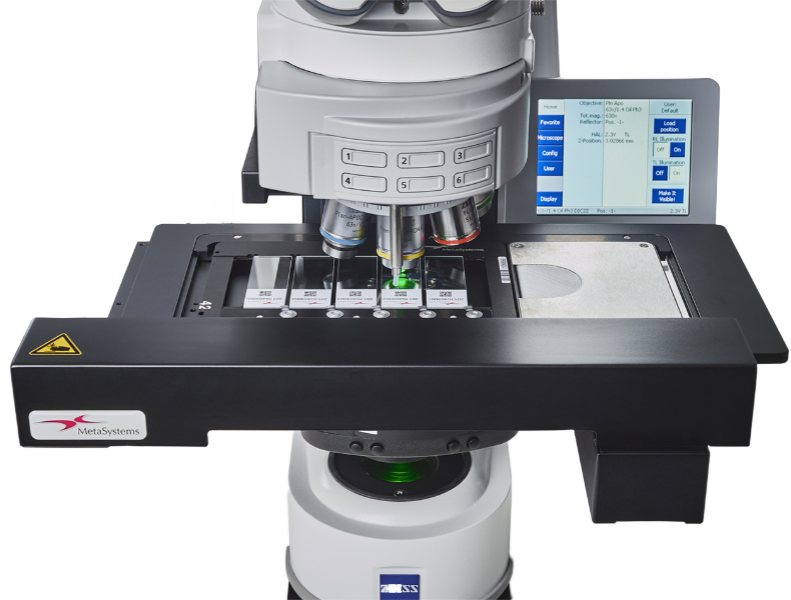 Märzhäuser Stage-8 Scanning Stage for up to 8 Slides
The Stage-8 is a scanning stage for AxioImager microscopes with photo sensors, 4 mm lead screw pitch and integrated Tango controller. It has a USB interface and an external power supply (24V).
---
Specifications
Manufacturer: Märzhäuser Wetzlar GmbH & Co. KG, Germany
Documentation: Available on request
Märzhäuser 1-Position Motorized Stage
The Märzhäuser 1-position motorized stage with integrated controller and integrated measuring system has a travel range of 75 x 50 mm, an integrated Tango controller, and a single-cable USB interface.
---
Specifications
Manufacturer: Märzhäuser Wetzlar GmbH & Co. KG, Germany
Documentation: Available on request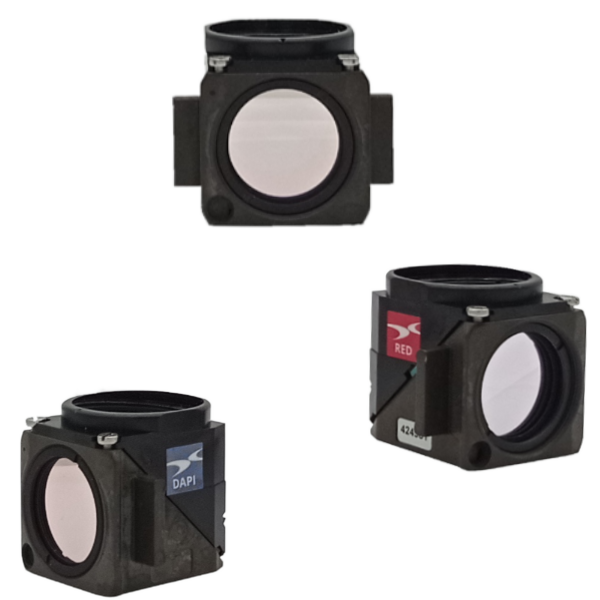 MetaSystems offers a range of narrow-band fluorescence filter sets with high-quality hard-coated surfaces to complement its fluorescence software. The portfolio of filters is constantly expanding, so not all available filters may be listed here. Details on the configuration of the filter sets are included with each delivery and can be requested from us if required.
Currently, we offer the following filter sets configured for use with MetaSystems software:
Single band filter set
| | | | | |
| --- | --- | --- | --- | --- |
| DAPI | GREEN | ORANGE | AQUA | NEAR INFRARED |
| GOLD | | | | |
Dual band filter set
| | | | | |
| --- | --- | --- | --- | --- |
| RED / ORANGE | GREEN / ORANGE | GREEN/ RED | | |
Triple band filter set
| | | | | |
| --- | --- | --- | --- | --- |
| AQUA / GREEN / ORANGE | DAPI / GREEN / RED | DAPI / GREEN / ORANGE | | |
Multiband filter set
| | | | | |
| --- | --- | --- | --- | --- |
| DAPI / AQUA / GREEN / ORANGE | | | | |
---
Specifications
Manufacturer: Chroma Technology Corp., USA
Documentation: Available on request
Legal Note
MetaSystems software and system products are classified as in vitro diagnostic medical devices (IVD) in the European Union in accordance with In Vitro Diagnostics Regulation (EU) 2017/746 or In Vitro Diagnostic Medical Device Directive 98/79/EC, respectively, and carry the CE label unless otherwise indicated. Use all MetaSystems IVD products only within the scope of their intended purpose.
MetaSystems products are used in many countries worldwide. Depending on the regulations of the respective country or region, some products may not be used for clinical diagnostics.
Some hardware components supplied by other manufacturers are not included in MetaSystems IVD products and are therefore not IVD medical devices.
Please contact us for further information.